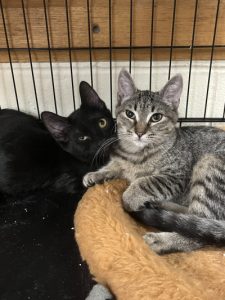 The Bay Shore Babes are Making Their Last Hope Adoption Debut
These 2 cuties were rescued in a Bay Shore yard at 10 weeks old. Did you read 2? Yes. You did. Now 3 months old, POPPY & SESAME are little ladies at our main center.
As for the cage door, their gateway to a cherished pet life, we will ask the tabby sister to say the magic words to their cage door: "OPEN," SESAME says," so we each can Go Home."
*NOT BONDED PAIR BUT YOU CAN TAKE BOTH*
If you are interested in learning more about them, please send us an email to adoptions@lasthopeanimalrescue.org or fill out an application from our website.
I've found my forever home! Thank you!