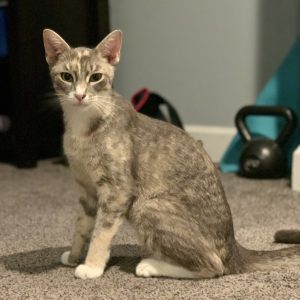 MAMA SHAYLA was Rescued with her litter of one day old kittens. …after she was discovered in July nursing her babies on a porch in Central Islip. Her 4 babies got applications as soon as they went up for adoption at Last Hope Cat Center in Wantagh.
But MAMA SHAYLA doesn't seem to be as fortunate as her kittens.. This happens often with sweet mother cats like SHAYLA. Please No Mama Cats Left Behind! She is 2.5 years old, and loves attention. As soon as you pet her, SHAYLA becomes animated & lovey dovey.
If you are interested in learning more about her, please send us an email to adoptions@lasthopeanimalrescue.org or fill out an application from our website.
I've found my forever home! Thank you!