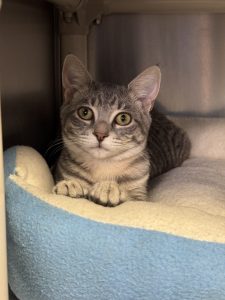 ?WENDY's WISH?
This 4 month old silver tabby has a simple wish to be fulfilled.
John Debacker rescued her all alone from a West Babylon sump when she was 10 weeks old. Now she is at Last Hope Cat Center in Wantagh.
WENDY wishes never to be alone again, especially in such a damp, desolate place like a sump.
And she wishes for a Home of her own where she can share a lifetime of love with her special people.
Her wishes should be easy for a caring cat person to grant.
If you are interested in learning more about her, please send us an email to adoptions@lasthopeanimalrescue.org or fill out an application from our website.
I've found my forever home! Thank you!