SIMBA the Beagle King
This 1 yr old red fella is adorable & puppyish.
As soon as SIMBA arrived on a Kentucky transport, he was already relaxed enough to be dancing in his cage so visitors would notice him. He wants to be everyone's pal.
Look at his hazel eyes & chocolate nose against his auburn coat..so stunning. SIMBA is a slim Beagle at 26 lbs.
On weekends you can meet our adoptable dogs without an appointment as long as you are wearing a face mask.
"Can You Feel the LOVE tonight?"
SIMBA would love to join your "Circle of Life".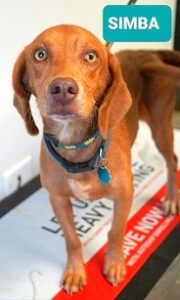 I've found my forever home! Thank you!