Meet New-Fangled FANG
FANG has been at Last Hope more than 6 months, and has recently undergone a purrfectly wonderful temperament transformation.
He NEEDS & DESERVES
a Loving Home of his Own.
FANG & his 3 identical brothers moved to us from Town of Hempstead Shelter in late May when 8 weeks old. They boys remained very frightened & clung together.
Months later when placed in separate cages they began to shine on their own timeline.
Brother POE was the first to show how social he could be when not feeding off their combined fear. He was separated sooner because of a paw injury & soon after blossomed & was adopted..
New-Fangled FANG is amazing.
Fang sits on your lap, is very sweet, gets along with other cats. And Likes to be held.
FANG has become a Purring Machine for Petting. See video in comments.
He is almost 8 months old and would LOVE a Forever Home for the Holidays.
You can meet FANG Mon or Tues with an adoption application first. The rest of the week from 12:30 to 6pm you can come into Last Hope in Wantagh as long as you are wearing a face mask.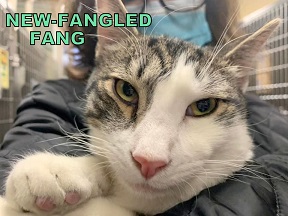 I've found my forever home! Thank you!