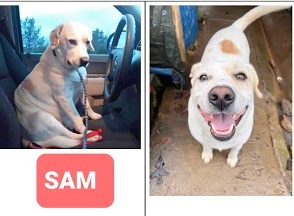 Smiling SAM is from a Georgia Shelter
You'd be smiling too, if you were leaving your sad past behind & headed for a much better life.
SAM was found beside his dead owner, and had a hard time leaving his owner and his home.
From his foster home in Georgia:
"SAM is a exuberant happy dog! He looks to be a young Beagle mix, about 3 yrs old.
SAM loves people and he likes most other dogs that he meets. He is now in foster where
he is enjoying life again.
SAM loves food and treats which is probably the reason that he is a bit on the chunky side. He weighs over 40 pounds.
This dog walks around smiling when he is with his people. SAM has the right amount of energy. He likes to play and sniff around the yard but he also loves to snuggle with his person.
He maybe a little scared when he first meets you, but it will only last a short time as he is a real love. This dog will make you smile every day."
   We have since figured out that SAM is deaf. He does well with cats. He tests well with dogs outside, but is can be too pushy with other dogs in the house. SAM just wants someone to LOVE him.
You will be able to meet SAM at Last Hope in Wantagh if first you complete a dog adoption application found on the Last Hope website homepage.
I've found my forever home! Thank you!