GRACIE is AMAZING!
As soon as this 1.5 yr old Border Collie mix with an Aussie stub tail arrived on a Kentucky shelter transport, she began showing off her repertoire of tricks.
We discovered GRACIE knows SIT, DOWN, STAY, PRETTY…Someone took the time to teach her these commands.
  We later learned she was an owner surrender because she was chasing livestock. Perhaps, she was trying to herd them- Isn't that what Border Collies do?
She is not shy , but shows off what she knows willingly while wagging that stub of a tail.
See for yourself by visiting GRACIE at Last Hope in Wantagh.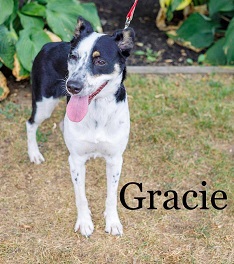 I've found my forever home! Thank you!