"Okey, Dokey, SMOKEY!
Last Hope is going to find YOU a great Home, SMOKEY, since you are a Great Cat."
This handsome feline fellow has the good looks & the sweet purrsonality of a Russian Blue. He is 1.5 yr old.
SMOKEY arrived on a Georgia rescue transport in February, and is making his debut appearance at our Wantagh Adoption Center.
SMOKEY is a Great Cat.- Need we say More?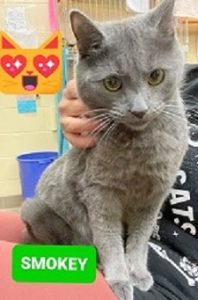 I've found my forever home! Thank you!