"NO BEAGLE LEFT BEHIND"-
SNOOPY from Brookhaven Town Shelter is PUP PROOF of Last Hope's usually unspoken adage above.
Saturday, when we learned this mature Beagle, around 8 years old, had been lingering at Brookhaven Shelter a month without being claimed or adopted, Last Hope made plans to bring SNOOPY to our Unofficial Beagle Halfway House.
It seems he was taken to the town shelter when his former house was condemned.
We needed to get him before 3:30 Saturday because of the holiday weekend, so Aunt Felice made a rescue run from & back to Wantagh ASAP. The shelter sent him to us with his microchip to implant.
In typical Beagle style, SNOOPY announced his arrival with a round of baying, and then promptly became emotionally attached to Aunt Felice and everyone associated with his move to our Beagle Halfway House.
Please visit SNOOPY at Last Hope in Wantagh so SNOOPY gets an All -the -Way Beagle House really soon.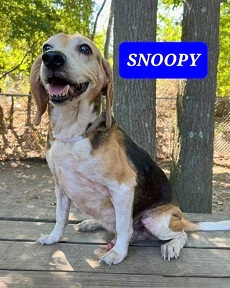 I've found my forever home! Thank you!