SOPHIA is a Beauty Queen kitten born around or on the Fourth of July.
This was near Great South Bay where one confused, cruel person has been responsible for the multitude of feral cats- mostly longhaired – born & neglected there, while another very kind person has spent years, trying to control the feline suffering, hunger & overpopulation.
Thankfully, SOPHIA & 2 longhaired littermates were rescued by the Good Samaritan at 6 weeks old when they were young enough to socialize.
SOPHIA & kin have been in Last Hope foster care.. aka " kitten charm school".
She is full of poise & purrs & now available for adoption at Last Hope in Wantagh.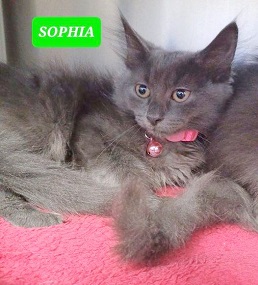 I've found my forever home! Thank you!