SOPHIA- SO NICE
SOPHIA is part scruffy, part floppy-ear, part black & tan AND all puppy, all adorable and all available for adoption.
SOPHIA was a last minute add-on to the Georgia Rescue Transport headed to Last Hope recently.
She is 6 months old, 20 pounds & resembles a Welsh Terrier puppy with a long tail.
So far she doesn't seem to be thrilled about other dogs.
Meet SOPHIA at Last Hope Dog Center in Wantagh.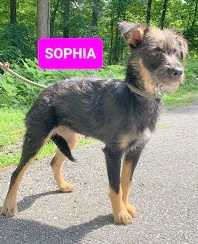 I've found my forever home! Thank you!