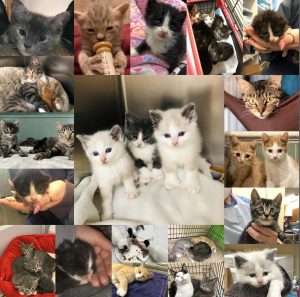 LAST HOPE NEEDS CAT FOSTER PARENTS 
Every year, Last Hope receives countless requests for help from people who find kittens and cats. The majority of these animals need foster care before they can be put up for adoption. We are constantly in need of foster homes to provide love and care and socialization. The more fosters we have, the more cats we can save from a hard life on the streets.
Last Hope provides bottle formula, food, medicines and all veterinary services for the kittens or cat while in your foster care.
There are various foster cat scenarios:
* infant bottle babies
* young kittens starting to eat solid food
* mother cat with nursing kittens
* kittens or cat needing handling & socialization
* kittens waiting to be big enough for spay/neuter
* special needs cat/kitten
* cats recovering from trauma or surgery
If you are interested in becoming a Last Hope Feline Foster Parent, please fill out a foster application and email Doreen at
salemm25@aol.com
.
THANK YOU!