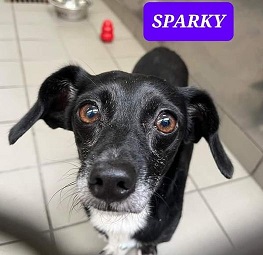 Sparking Adoption Interest for SPARKY
Look into his big brown eyes. Do you see a spark?
If so, pay close attention to that electrical connection between both of you.
SPARKY, like MICKEY, was seized from the Georgia hoarder house with 27 dogs tied in the yard..
Since this tiny 15 pound pup is about 5 years old, any life beyond that pup prison bewilders & scares him..
However, SPARKY is making progress-yes, baby steps.. and YOU can adopt him to show him all the good there is waiting for him in a Loving Home & in the Big Wide World.
Meet SPARKY at Last Hope Dog Center in Wantagh.
I've found my forever home! Thank you!