We Love SPOT A lot & Hope He Came to the Right Spot

SPOT was a pup passenger on the Kentucky transport that left just before tornadoes ripped apart towns near Bowling Green, his KY shelter.
This poor Hound needs us.
SPOT, a 10 yr old Beagle mix weighing 30 lbs , cries out for a new place to live.
His former owner came upon hard times, lost his home which forced him to surrender SPOT because he could no longer afford to keep him.
SPOT had a sister dog , surrendered too, She was chosen to come to Last Hope. It turns out when the KY shelter sent her to be spayed, their vet examined her & saw she was filled with cancer.
So sad, especially just before the holidays.
Will Last Hope be able to work a Christmas Miracle for SPOT?
Anything is possible with YOUR help. We know there are folks out there with a Spot in their Heart & Home for our older fellow SPOT.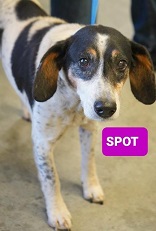 I've found my forever home! Thank you!