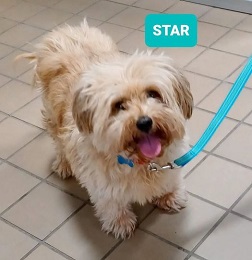 If You See STAR Close up or Feel Her Matted Coat, you wouldn't get the impression this 7 year old Shihtzu has ever been treated like a Star.
You're more likely to think she's either been lost or neglected for a long time.
STAR will be pampered & groomed soon. After all, she just arrived at Last Hope on Long Island after a Kentucky transport this afternoon.
We also noticed she is limping on her front leg….something not mentioned beforehand- so we won't know if she hurt herself on the transport, or has an old injury until our vet sees STAR this week.
In the meantime, STAR is our website to start the search for an adopter who will put her on a pup pedestal and treat her like a canine celebrity Forever More.
Meet STAR at Last Hope Dog Center in Wantagh any day from 10 am to 7 pm.
I've found my forever home! Thank you!