BILL the Beagle Looks So Good after His Cherry Eye Surgery. He'll Look So Much Better After He's ADOPTED.
BILL a 2 year old Beagle from a Kentucky shelter arrived at Last Hope with his cherry eye already fixed.
His sending shelter offered to repair this cosmetic condition before his transport which is what the Kentucky vets did. His cherry eye became a cheery eye.
BILL is a friendly, but timid Beagle boy who's waiting to be scooped up by a Beaglophile or a Beaglophile family.
He needs someone who will help build his confidence that someone really loves him.
Meet BILL at Last Hope in Wantagh any day from 10 am to 7 pm.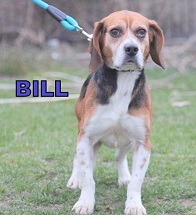 Come visit me at the Dog Adoption Center.
[contact-form 3 "Dog Adopt"]