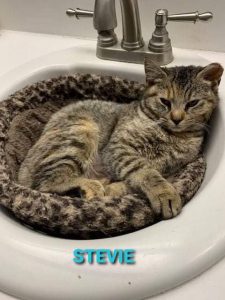 "SAY THAT YOU LOVE ME"
Do you hear this familiar melody coming from our Fleetwood Mac kittens-STEVIE & LINDSEY?
Yes, Our Fleetwood Mac Tabbies are Looking for a "Landslide" of Love
LINDSEY & STEVIE are tabbies who would each like to entertain YOU for a Lifetime.
The duo was rescued in Middle Island, fostered and socialized by their foster Mom Cheryl. LINDSEY is about 2; while his gal pal STEVIE is only 1 year old. Check out Lindsay's own personal post for his close up shot!
They entered the Last Hope Cat Adoption Program..and are booking concert appearances (aka meet n greets) to audition for a solo or duet FOREVER HOME.
To meet LINDSEY and/or STEVIE by appointment at Last Hope in Wantagh, please complete and submit a cat adoption application found on the Last Hope website homepage.
I've found my forever home! Thank you!