SUGAR's Story Is Bitter Sweet. Together we can turn it Super Sweet
From looking at this darling dog, you get the strong feeling she hasn't had an easy life in Virginia.
It appears she's had litter after litter.
SUGAR came to the shelter as a stray…when her owners showed up, they wanted her back.
    It would be a good guess they wanted to continue to use her to pump out puppies.
Decide if that is true after you read more from her Virginia shelter written when trying to get Last Hope to take her:
    "Sugar the senior Beagle is available. Her family wanted to get her back, but they can't provide rabies or any vetting info on her.
The former owner had 3 neighbors put adoption applications in on her but we're smarter than that.
The people didn't even take her into the interview room or pet her. What they were doing was so obvious. It was all a set up. They were supposed to redeem her & give her back to her former owner.
When we had her spayed last week the vet also removed a small mammary tumor so she has stitches to come out.
She does not act like a senior at all, lots of pep in her step. She shares a kennel with a Lab with vision problems & they are BFFs."
SUGAR is a darling dog despite people exploiting her. She may not be so senior. Dogs (and people) tend to look older when they've had a rough life- something I call the "Johnny Cash Factor".
SUGAR's mammary tumor is the result of many litters & not being spayed. There was no biopsy done to offer a prognosis, but we are told the mass was small.
The first step to improving SUGAR's life has happened.
Her compassionate sending shelter spayed her & got her " out of Dodge" so her former owners cannot resume overbreeding her.
Last Hope can't undo the life SUGAR had before we met her- but we can try to make SUGAR as healthy as possible so the last chapter of her life has many, many happy pages.
Now to find the Best Setting for that chapter.
To meet SUGAR by appointment at Last Hope in Wantagh, please complete and submit a dog adoption application found the Last Hope website homepage.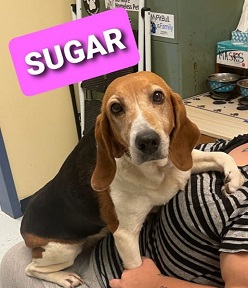 I've found my forever home! Thank you!