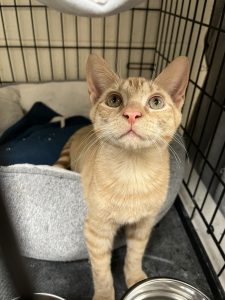 SUNNY D & MIMOSA are Cemetery Soul Mates These handsome orange tabby boys were trapped on the same day while living in a Central Islip cemetery. They aren't littermates because SUNNY D is around 7.5 months while MIMOSA is 6.5 months old, yet they were probably both born at the cemetery & both were foraging for food there.
These feline fellows were neutered on the veterinary van during Last Hope's "Let's spay/ neuter 38 cats on the van , TNR some, sp/neuter 11 of our kittens" Day.
MIMOSA & SUNNY D came into the Last Hope cat adoption program that day because we had high hopes they were friendly & sociable. It happens to be a bonus that they are Cemetery Soul Mates too.
Meet the ginger guys at Last Hope Cat Center in Wantagh.
If you are interested in learning more about them, please send us an email to adoptions@lasthopeanimalrescue.org or fill out an application from our website.
I've found my forever home! Thank you!