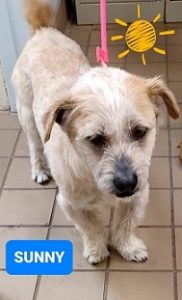 SUNNY came to Last Hope on Long Island from Kentucky. He'd been in foster there.
Aunt Jackie, his rescuer & chauffeur, tells us his sad story:
" SUNNY, a Benji look-alike, wandered onto someone's property and found a safe haven.
Although SUNNY is microchipped, it was never registered. Thanks to the diligence of one of the ladies in my vet's office, she tracked down the original owner.
That person had given SUNNY to her grandparents years ago. As a young dog, he had too much energy for an older couple.
He was given away again on Craig's List. He must have spent his life in a kennel or crate, since his front teeth are worn down to nubs; most likely from trying to bite his way out!
Fast forward 8 or so years later, SUNNY needs to find a new family who will love him for the rest of his life. He is neutered and heartworm negative and up to date on his shots. "
SUNNY deserves a Sunny Life, and Last Hope is determined to find someone or a family who will do just that. Visit SUNNY at Last Hope Dog Center in Wantagh any day from 10 to 7 but please be wearing a face mask.
I've found my forever home! Thank you!