FABULOUS FRED

This Wonderful Pup has the physique of a compact German Shorthaired Pointer, mostly liver color. His effervescent temperament wins Fred an immediate FRED FAN CLUB.
3 yr old FRED comes to Last Hope from Desperate Dogs of Kentucky. Aunt Jackie , his rescuer & chauffeur said:
"FRED wandered up to someone's front porch and stayed.
He's a terrific dog! He's quiet and just wants to be loved! He's been neutered, and is up to date on his shots, heartworm negative, been treated for parasites, fleas and ticks."
FRED wants to smoooooze with YOU.
Meet FRED at Last Hope in Wantagh any day from 10 to 7 pm without an appointment as long as you are wearing a Face Mask .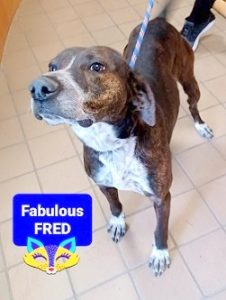 I've found my forever home! Thank you!