Have You Heard? SUSIE is
a Herding Dog from Puerto Rico.

SUSIE was rescued & flown to JFK by All Sato Rescue. Then she was transported to Last Hope.
She looks like a miniature white Shepherd.
SUSIE has puppy energy & puppy mouthiness. She appears to " herd" young kids by nipping at their shoes when she fears they are moving too much & leaving the flock.
This behavior is typical of herding breeds who curtail the nipping with training & assurance the "flock" is safe.
SUSIE will do well with a Herding Breed-savvy owner. So much Pup Potential!!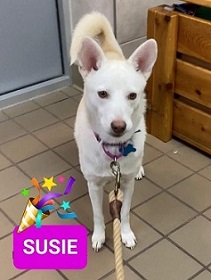 I've found my forever home! Thank you!