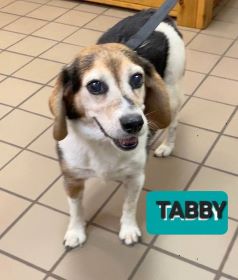 Meet TABBY
Were You Expecting to See a Cat?
Our TABBY is a Beagle gal from an overcrowded Kentucky shelter.
We don't know why she was named after a cat coat color, but we do know how SWEET TABBY is.
TABBY is supposed to be about 8 years old.. No worries..
….TABBY has plenty of prance in her
step. She wants to be around people so she can share her love.
Look at TABBY's Beagle Girl Smile. She is beckoning YOU to meet her at Last Hope in Wantagh.
I've found my forever home! Thank you!