Please Take TAKI Home Sweet Home
This dear Chihuahua came into a Kentucky shelter as a stray. TAKI is a Velcro dog. Hard to believe he would run away from anyone.
He arrived Sat.at Last Hope via rescue transport with his pick-up stop in Portchester.
TAKI must have never been on a leash before. He does the whirling dervish when you attempt to walk him. Poor Baby.
When you sit beside he climbs on your lap and plasters himself there for petting & reassurance. Poor Baby.
TAKI is 3-5 yr old & weighs 12 pounds.
His skin is neglected. Poor Baby.
Wish he could tell us his sad background story.
TAKI came to the right place if he needs reassurance & confidence. We expect TAKI to make lots of progress with our loving volunteers.
Meanwhile, he is hoping for a home where he will be a cherished Chihuahua.
To meet TAKI at Last Hope by appointment, please complete and submit a dog adoption application found on the Last Hope website homepage.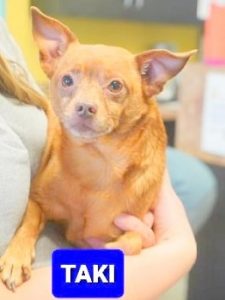 I've found my forever home! Thank you!