THANK YOU TO THE BANFIELD FOUNDATION…
For Generously Partnering With Last Hope So We Can Help Owners in Financial Need Keep Their Beloved Pets..
Last Hope is very pleased to announce we received a $10,000 grant for 2016 from the BANFIELD FOUNDATION to assist people in need with their pets'medical concerns.       Community outreach, including a Fix-A- Feral program and free rabies vaccine clinics, is part of Last Hope's mission, whereas assisting individuals with their owned pets occurs infrequently.  "The generous Banfield Foundation® grant will enable us to expand our reach. Most of the donation money we work so hard to raise must be spent on the animals in our care. In the past we've been able to help a limited number of desperate, owned pets. Because of the Banfield Foundation®, Last Hope responded in two recent cases- "Nelly" a young Sheltie needing her cardiac ailment diagnosed, then a hole in her heart repaired surgically (called a PDA); and "Oreo" an eight-year-old cat suffering from a urinary tract infection," said Stuurman, "Thanks to the Banfield Foundation® we'll be able to respond to more pleas for veterinary aid."
To apply for a Banfield Foundation Veterinary Assistance Grant via Last Hope, the owner must show need such as disability, unemployment, homelessness or being a senior on a fixed income.  A downloadable form is available on the homepage of the Last Hope website: www.lasthopeanimalrescue.org . All information will be kept confidential.
Last Hope appreciates the Banfield Foundation 's commitment to keep people & their pets together.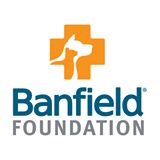 Nelly the Sheltie