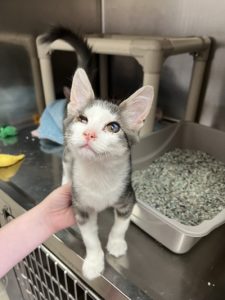 TOBAY is a Special Needs Kitten…He has Limited Vision… But Don't Tell Him That.
TOBAY will Dispute Our Opinion. TOBAY plays with a vengeance when scampering around the cage with his sister LIDO. He was even biting my camera while I was trying to get a still photo of silly TOBAY. Due to an infection that started too long before he was rescued at 4 weeks old , near a Fire Island beach house with his Mom & 4 littermates, TOBAY is blind in his right eye. and has only slight vision in his left eye. TOBAY can & will live a FULL LIFE as long as he resides in a loving, responsible ADOPT TOBAY…
YOU need NOT be a Town of Oyster Bay Resident.
If you are interested in learning more about him, please send us an email to adoptions@lasthopeanimalrescue.org or fill out an application from our website.
Come visit me at the Adoption Center in Wantagh, New York.
[contact-form-7 id="18343" title="mfmchugh"]