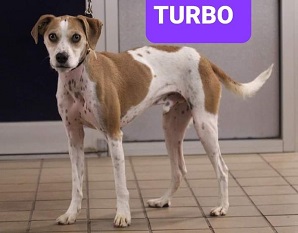 TURBO CAN HELP YOU.
During these turbulent times, YOU need a dog like our TURBO to distract you from the news, get you outside to exercise and relax.
All this is wrapped up in a 17 lb package of Whippet/ Beagle.
TURBO is about 3 yrs old and was saved from an overcrowded shelter in Kentucky.
It is time to rescue TURBO from life in a kennel. ADOPT HIM.
He has the svelte figure of a small sighthound, adorable polka dot spots & a Beaglish demeanor.
YOU can meet TURBO by appointment at Last Hope in Wantagh but first complete and submit a dog adoption application found on the Last Hope website homepage.
I've found my forever home! Thank you!