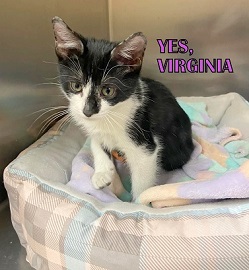 YES, VIRGINIA, There is such thing as SANTA CLAUS, and He & Your FB Friends will Help You Find a FOREVER HOME.
Tiny VIRGINIA & her littermates -TEXAS, MONTREAL, JERSEY were spay/ neutered yesterday. This surgery is their gateway to adoption. The girls will recover about a week, but the boys will be ready sooner.
This Levittown litter was rescued in October at 7.5 weeks old by a Good Samaritan who saw their Mom killed by a car. Hopefully her babies didn't witness the tragedy.
They were fostered briefly by a Last Hope volunteer before returning to Wantagh to dazzle us with their endless play.
VIRGINIA & her siblings are various patterns of white & black – 3 months – and as Cute as Can Be.
Yes, you can meet VIRGINIA & her kitten kin at Petsmart Huntington.
I've found my forever home! Thank you!