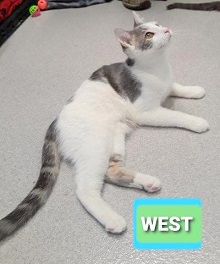 WEST WANTS A FOREVER HOME
He loves being in foster care with
his doting Foster Mommy Lisa Wollos.
He LOOOVES being the center of her attention/affection.
He was one of many Last Hope kitties on sabbatical in the homes of our volunteers during the COVID-19 shut down.
(Many foster & Center cats have already been adopted.)
WEST has never felt so special before. He is LOVED in his foster home.
He originally came from the Lindenhurst hoarder house with 36 cats & kittens surrendered in December to Babylon Shelter because the hoarder owner didn't want to face animal neglect charges.
WEST is only 10 months old, very friendly & he had been on supervised play plus cage rest because Babylon Shelter & Last Hope's vets suspected he has luxating patellae (movable kneecaps) in both rear legs…
In foster care WEST has been free to play…And PLAY, PLAY, PLAY is how he likes to enjoy his day.
WEST had a consult with two orthopedic surgeons, and several regular vets. He got great news from the specialist last week. She doesn't feel he needs surgery on either knee at the present time..
And suggests his adopter keep him lean so WEST doesn't put too much weight on his patellae.
His family should also keep watch that he isn't in pain.
First WEST Needs that Forever Family.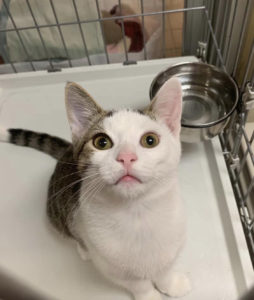 I've found my forever home! Thank you!