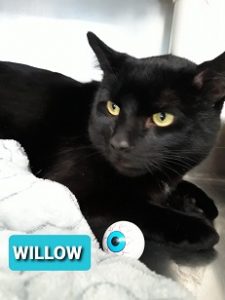 Welcome WILLOW to Last Hope.
He's a sweet boy who's been through so much sadness & turmoil.
WILLOW belonged to a 49-year-old woman with a doctorate in education who recently died from Covid complications- Such a reminder that victims of the pandemic are all ages and come from all walks of life.
And to add to the sadness, the peripheral victims are the beloved pets they leave behind and bewildered.
WILLOW & the 3 dogs in his household are quite confused about the changes in their lives. All 4 were taken to Babylon Shelter where they were given TLC while some of their histories have been pieced together.
Last Hope offered to help in the re-homing of these orphan pets.
WILLOW is the first to join us. He is very gentle, loves petting & head-butts you for more gentle strokes.
We know he was neutered last December  at a local animal hospital. He is estimated to be about 2.5 years old.
To meet WILLOW by appointment at Last Hope in Wantagh, please complete and submit a cat adoption application found on the Last Hope website homepage.
We are hoping to restore the love & stability WILLOW has lost. And to place him in a loving home in memory of his beloved owner.
I've found my forever home! Thank you!