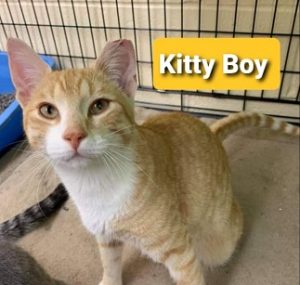 KITTY BOY is only 6 months old.
He's experienced a lot for a half grown kitten.
He was born in Georgia…somehow he wound up being TNRed because his left ear is tipped, then found himself in a crowded Georgia shelter, next on an 18 hour rescue transport to NY where the pick-up spot was a horse stable & finally to the safety of Last Hope. Right now KITTY BOY is being showcased at Petco Syosset.
This fellow has 4 white socks & a silly disposition. He likes other cats….and KITTY BOY would just LOVE to live with YOU.
To meet KITTY BOY by appointment at Last Hope, please complete and submit a cat adoption application found on the Last Hope website homepage.
I've found my forever home! Thank you!