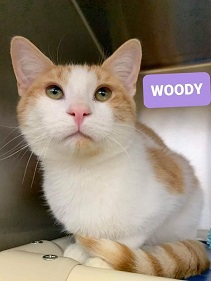 WOODY WOULD Live His Own Home
Recently WOODY & his brother BRENT were lucky enough to be trapped in Brentwood, then neutered & fostered- all by Marilyn G. The boys were 9 months old already but as friendly as can be.
Had they been pets at one time & then abandoned in Brentwood? We can suspect so, but will never know for sure.
After Last Hope 's intake clinic earlier this week, the brothers were moved to Petsmart Bellmore.
WOODY & BRENT will hopefully dazzle customers shopping there.
We don't know how long each kitten will wait at Petsmart Bellmore before being adopted, but we will never forget where they originally were.
Put BRENT & WOODY's names together, and it just about spells "BRENTWOOD".
I've found my forever home! Thank you!