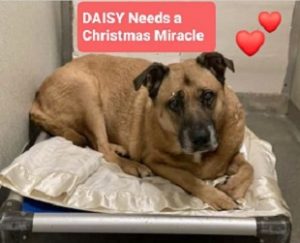 DAISY Needs a Christmas Miracle.
In mid-December, a Wantagh woman came into Last Hope asking for help for DAISY.
Seems there was commotion at the house behind her in the area near MacArthur High School, & she learned her neighbor of 30 years had been found deceased in the house. Her dog had been locked in the house with the late owner for at least a week.
The woman said the dog named DAISY was a sweetheart, and she and her owner lived alone. The owner had no children, was divorced for many years & her mother lived with her before passing away about 8 years ago. The woman had no immediate family, but she adored DAISY. They were always together in the yard.
Bewildered DAISY had been taken to Town of Hempstead Shelter…The neighbor's son was NYPD so he was able to get DAISY's Hempstead case number for us.
The neighbor asked Last Hope to take DAISY because as a beloved pet she would be so sad & confused in a crowded, municipal shelter surrounded by many barking dogs.
No one would be claiming DAISY because the woman who died was pleasant but private, and had no close relatives.
We found out from Hempstead that DAISY was a 10 yr old, large & overweight Shepherd mix, and, yes, very sweet. Her physical description would not help to find her a home. We were worried about DAISY dying there of a broken heart.
We went to see DAISY at Hempstead Shelter twice on Sat. She looked so forlorn leaning against the front of her kennel, head down. She sniffed my hand gently.
   We weren't allowed to meet her out of her run because she hadn't been evaluated yet by their shelter staff.
So We started making plans to move DAISY next door to the Last Hope smaller setting . We are going to investigate possible senior medical issues, manage her weight & get her as healthy as she can possibly be.
DAISY came to us several days before Christmas. She seeks out lots of attention, and wants to get into every parked car. She seems OK with most, low key other dogs but is not used to cats.
DAISY will be showered with love & attention by our many Last Hope volunteers.
However, this dear dog has suffered a terrible loss & trauma.. We believe in Christmas Miracles. Do YOU?
Last Hope knows there are folks who will open their hearts & homes-foster or forever-to a sad, senior dog like dear DAISY. Help us find those folks, please.
I've found my forever home! Thank you!