ZERKS is looking for a HOME with all the Perks of Being a Family Pet
He is a 1 yr old Lab mix with splashes of Hound who arrived today on a Georgia transport.
ZERKS is so happy to meet all our volunteers, and eager for the next (and Best) chapter of his young life to begin.
ZERKS has puppyish enthusiasm and energy which should help his training experiences.
Our joyful pup seems to sense Last Hope is the place that will maximize his adoption opportunities.
On that note, to meet ZERKS by appointment at Last Hope in Wantagh, please complete and submit a dog adoption application found on the Last Hope website homepage.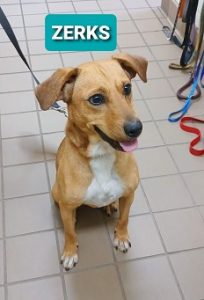 I've found my forever home! Thank you!