ALVIN is ALL ALONE….
He was named for the leader of the famed Chipmunk singers, yet he is the only littermate not to be ADOPTED.
To add insult to injury, someone moved him from the spacious cage he shared with his siblings to solitary confinement in a smaller cage.
Despite these setbacks, ALVIN remains friendly and adorable. He hopes this cute pose will bring crowds of ALVIN & the Chipmunks fans flocking to his cage door at Last Hope in Wantagh and at least one Chipmunk groupie will want to adopt him.
Oh, where is Dave Seville when you need him? (Note…only Baby Boomers and their parents will recognize that name.)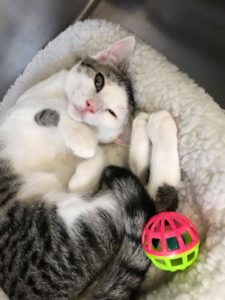 I've found my forever home! Thank you!