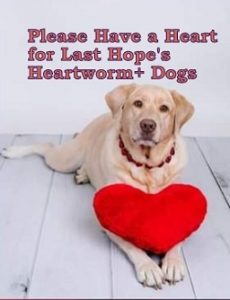 Please Have a Heart for Last Hope's Heartworm+ Dogs
PRINCE & PRINCESS  Foxhound siblings, CALLIE a small Mama Shepherd mix, MACK a yellow Lab and RIVER a tiny Feist are hoping YOU'LL Help Mend Their Broken Hearts.
These 5 Last Hope dogs recently tested positive for heartworm infection. They are currently undergoing the expensive and risky Immiticide® (melarsomine) injections to cure them of this potentially fatal parasite.
Last Hope's rescue cost averages $1200 to treat each dog for heartworm. That's close to $6000 in the last few months alone. With your help, Last Hope will be able to help heartworm-infested dogs like PRINCE, PRINCESS, CALLIE, MACK, RIVER and future victims return to good health, and then find or finalize their "happily ever after" home. Presently all 5 dogs are in Foster-to-Adopt Homes which will hopefully become FOREVER when their treatment is done.
All Last Hope dogs come from Long Island municipal shelters or are transported from overcrowded shelters in southern states where even extremely sociable dogs do not stand a chance. Many of our dogs were outside strays, victims of neglect or owner surrenders never protected with the heartworm preventive pill.  These dogs are more vulnerable to heartworm infection than a pampered pet.
Some cases like CALLIE and MACK came to us as a surprise because they weren't tested, or their initial blood work was fine, while others like PRINCE, PRINCESS and RIVER were infected dogs  Last Hope intentionally pulled from shelters to save their lives.
Heartworm is a silent killer of dogs spread by mosquitoes. Adult heartworms grow from 6-14 inches long clogging the pets' heart and lungs. Serious damage can occur to these organs plus the liver and kidneys before any outward symptoms. By the time the pet shows signs of coughing, listlessness, fainting or weight loss the disease may be very advanced.
Mosquitoes are the deadly army. The female buggers are out there, full force, spreading heartworm, a deadly parasitic cardiovascular disease. According the American Heartworm Society, heartworm is found in all 50 states now with the incidence of cases highest in the Southeast and Gulf states where many Last Hope dogs originate.
Heartworm may be coming more prevalent for a variety of reasons including: more testing, better testing, testing at town shelters, climate change- hence, more mosquitoes, new species like the voracious Asian tigers, more mosquitoes migrating north, a larger population of unprotected pets due to financial hardship and the pandemic, and finally, more infected animals for mosquitoes to feed off and spread the disease.
That's why Last Hope is setting up this special fund. Won't you have a heart for our heartworm positive dogs? The dogs are delightful and deserve Last Hope's Golden Ticket to the good life.
Last Hope is asking for donations so we won't hesitate to help heartworm positive shelter dogs like PRINCE,PRINCESS, CALLIE, MACK, RIVER and others in the future.  Any size donation, even $5 is appreciated. Together we can help more dogs fight this insidious disease.
Donations can be made via our "Heartworm Fund" PayPal link below or by sending a check to Last Hope, PO Box 7025, Wantagh, NY 11793 and noting "HW fund" on the check subject line."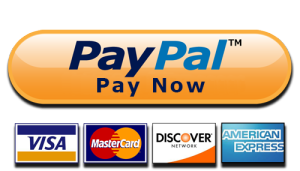 Thank you!!
For more information about heart worm, visit American Heartworm Society.