Wish List
We've made it even easier for you to purchase items on our "Wish List" and have created a list on Amazon. We have found that since we don't get any confirmations from Amazon your donations are not being acknowledged – there is an option to include a gift card so be sure to do this so we can say THANK YOU!!!

Your donation means a great deal to our organization, but it means even more to the animals that depend on us for survival. With your help we can carry on Last Hope's mission to reduce the tremendous cat and dog overpopulation problem on Long Island, encourage responsible and affordable pet ownership, and transform the public image of the typical pound animal.
Last Hope has a 501(C)(3) not for profit status. Your donation is tax deductible.
While monetary donations (our greatest need) for emergency medical expenses, spays and neuters, medicines, cat and dog food are always needed, below are also supplies needed as well.
For the Dogs…
Science Diet – Savory Stew with Chicken (12.8 oz)
Science Diet – Adult Dry (33 lbs)
Towels (bath size, cotton)
Nylon Leashes 4- 6 feet long and 1" thick
Hybrid Martingale collars
Toys that are Durable/washable (Kongs or Nylabones)
NO RAWHIDE BONES PLEASE – they are not good for shelter dogs
For the Cats…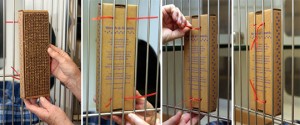 Friskies – Pate only (turkey and giblets, no fish flavors please)
FANCY FEAST KITTEN TURKEY canned wet food (very needed)
Dry cat food – any flavors

KMR kitten replacement milk and nursing bottles

Towels – bath size, cotton
Toys (without cat nip, please – must be new)
Fleece cat Beds (must be new)
Hammocks with clips to hang in condo cages (http://www.amazon.com/ProSelect-Wild-Time-Hammock-Brown/
Stainless steel food/water bowls (prefer small, shallow, non-flip)
Cat scratchers (click here for Scratch & Stretch cat scratchers)
Feliway (Comfort Zone) diffuser and refills
Animal Care Supplies…
Triple antibiotic ointment or cream
Nail clipper
Grooming brushes
Pet wipes
Gauze (3"x 3" 4-PLY)
Alcohol 70%
Nitrile (non latex) gloves size large
Hand Sanitizer (8 oz bottles)
Antibacterial soap (gallon jug)
Heating Pads and Heating Disks (Snuggle safe microwave heat pad with cover is a good option)
General Supplies…
Paper towels (one of our biggest needs)
Toilet paper
Dawn Blue Dish detergent
Bleach & Windex
Dust pans and brushes/brooms
Industrial sponge mops with replacement heads
Scrubber pads (not stainless steel)
Dishwashing rubber gloves
39 gallon heavy duty trash bags
13 gallon tall kitchen trash bags
 Office Supplies…
Copier paper
Manila file folders
Pens
Post it note pads
Packing tape & dispenser
Scotch tape
White out
Printer Ink: Brother TN660 toner cartridge
We'd also love to have…
Gift Cards to grocery stores, home improvement centers, pet stores, Walmart, or Target