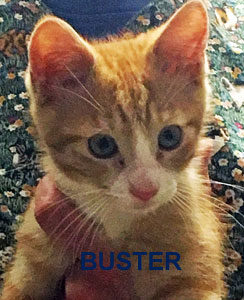 BUSTER is more than a Last Hope kitten-
He's a MythBUSTER too.
He's a rescued singleton about to dispel the notion of "fighting like cats & dogs" .
He was alone and spent 2 days crying in a Freeport yard before someone rescued him.
Soon as he entered his Last Hope foster home as a tiny orphan, the foster family's Shepherd became his guardian, protector and heating pad.
Now at Last Hope Wantagh, Buster shares the kindness he learned from his canine caretaker with all creatures including the toy squirrel and tiger in his cage. 
BUSTER wants to find a loving home where his tiny creatures will be welcome too.
I've found my forever home! Thank you!