COOKIE is a sweet as sugar cookie tuxedo rescued from a sump and about 3.5 months old now. She sits calmly in her cage at the Wantagh Cat Center waiting for someone to pet her.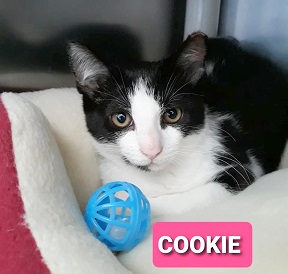 Better yet- waiting for someone to adopt her.
To meet COOKIE by appointment at Last Hope, please complete & submit a cat adoption application found on the Last Hope website homepage.
I've found my forever home! Thank you!