**MISSION POSSIBLE**
*Now Playing at a Last Hope Adoption Center near YOU..
*Starring Tomcat CRUISE
This terrific tabby, whisked from an overcrowded Georgia animal shelter where he  wouldn't have found fame or a future, will entertain you for many years to come.
His playful antics & animated affection will make him your feline heart throb.
This action-packed pet-CRUISE a brown tabby- is 3 years old, and presently staying in the Last Hope lobby Jungle Room.
He comes right up to volunteers and jumps onto to their laps so he can nuzzle their faces.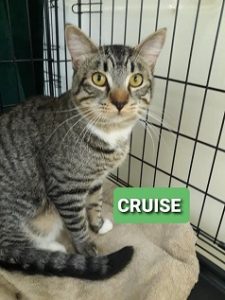 To meet CRUISE  in purrson by appointment,  please complete and submit a cat adoption application found on the Last Hope website homepage.
I've found my forever home! Thank you!