Can CUBBY …
…Come to Play with YOU at Your House for the Next 20 Years or So?
Above is a special request from a very smart kitten.
CUBBY is cautious before he takes a Leap of Faith.
In June over a period of several days while only 6 weeks old, CUBBY was the last one in his family to venture into a humane trap set at a Freeport school yard.
His 2 brothers (CHALK & CRAYON) went in. SNAP!
His supposed Dad (no paternity test) went in. SNAP!
CUBBY clung to his Mom's leg trying to stop her..but she persisted. SNAP!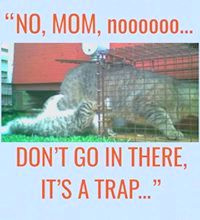 Finally rather than face the world alone & hungry, CUBBY capitulated & ventured in. SNAP!
Good thing he did because CUBBY became a Last Hope kitten like his brothers. He had a bad eye infection & was treated in the isolation area.
Cute CUBBY – now 3 months old-was recently neutered , & now knows life is much better off the streets & out of the school yard.
He is cautiously ready to venture into a loving HOME…where he can play with YOU for the next 20 years or so…
Please let CUBBY make his Leap of Faith to YOU!
I've found my forever home! Thank you!