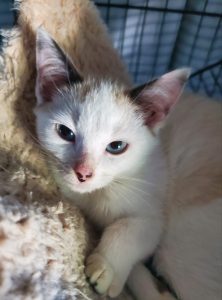 Say Howdy to Tiny DAKOTA…
You don't have "Fargo" to meet her.
DAKOTA is a 2.5 month old subtle calico, mostly white. Her eyes are BLUE. She was spayed last week & is resting up for her Adoption Debut at her loving foster home.
She was born 6/4, and trapped with her 2 sisters at 7 weeks old in Brentwood. Sweet face; sweet baby girl.(Is anyone keeping count of how many kittens Last Hope rescued in Brentwood so far this kitten season?)
To meet DAKOTA by appointment at Last Hope in Wantagh, please complete and submit a cat adoption application found on the Last Hope website homepage.
I've found my forever home! Thank you!