Here's Handsome HARRY:
He is the only tenant in our lobby Jungle Room at the present time, & he has to be an extraordinary cat for the honor of residing (temporarily) in such prime rescue real estate.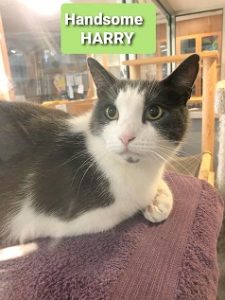 More below from Linda, Last Hope prez & HARRY's rescuer :
"HARRY came from The Mill House Restaurant in Yaphank. He has been a part of a feral ? colony of six cats. Harry joined this feral cat colony a few years back.
He was always the first to run for the food delivered nightly by Last Hope volunteers.
A call came in recently, saying HARRY was limping in the parking lot at the restaurant.
He was limping pretty badly when I went there so I picked him up and brought him home to see what was going on with his leg or foot.
I discovered nothing physically wrong, except for a cut between his toes on one paw. I found him to be extremely affectionate and loving. He loves petting & makes biscuits with his feet while enjoying attention.
HARRY was already neutered but not ear-tipped. He tested FeLV/FIV neg.
I could not put him back again to deal with the elements this winter. He is 5-6 years old.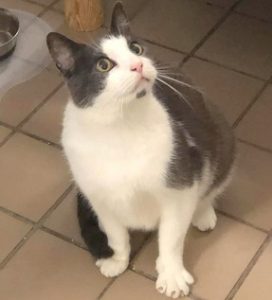 HARRY will make a great pet."
I've found my forever home! Thank you!