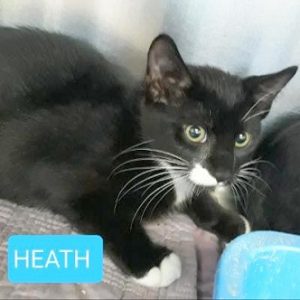 HEATH and his brother LEDGER are our "Dark Knight" Kittens..
The tuxedo brothers are Mushes with a capital M. They can be cradled & carried around like babies.
They were born outside in Lindenhurst, and then taken inside & well-socialized before coming to Last Hope in Wantagh.
The boys are 14 weeks old & ready for adoption.
They are almost identical except that HEATH has more white on his chin & half white lipstick, and LEDGER has a white goatee with a donut hole.
To meet HEATH and/or LEDGER in purrson at Last Hope in Wantagh, please complete and submit a cat adoption application found on the Last Hope website homepage.
I've found my forever home! Thank you!