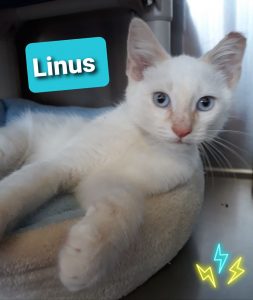 Do YOU LOVE LINUS?
What's not to Love?
This gorgeous, flamepoint Siamese mix kitten is 3.5 months old .
He was trapped when much younger among a group of ferals in Hempstead & then home-fostered.

LINUS has Siamese charm…apprehensive with a half-hiss for a second & then a mushy man.
He head butts your hand & purrs loudly so you will continue to pet him.
Yes, his eyes will stay that shade of baby blue, his tail has orange swirls & his eartip is his badge of honor after being liberated from life in a feral colony.
To meet LINUS by appointment at Last Hope in Wantagh, please complete & submit a cat adoption application found on the Last Hope website homepage.
If we get too many approved applicants for LINUS, we may have to arrange an arm-wrestling match or 100 yd dash or best of both to determine who meets him first.
I've found my forever home! Thank you!