MIAMI's full name is MIAMI NICE. She is a pretty gray and white kitten about 2.5 months old who was rescued with 5 littermates in Brentwood. These kitten were saved by 2 kind people with multiple trips before all 6 were safe at Last Hope.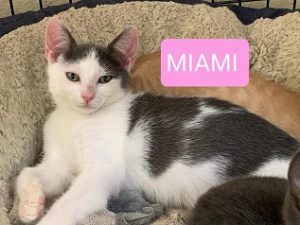 MIAMI is spayed, sweet and ready to venture into a Forever Home that need not be in Florida…
To meet MIAMI by appointment at Last Hope, please complete & submit a cat application found on the Last Hope website homepage.
I've found my forever home! Thank you!