SALT & PEPPER are Movers & Shakers
Actually these kittens are about the size of small salt & pepper shakers, even at 2.5 months old.
SALT & his sister PEPPER were rescued as 2 munchkin 8 week old babies in Central Islip. They've been in loving foster care with Aunt Becki, and are purrfect pet prospects.
Besides being tiny cuties, they have comical markings. SALT looks like someone penciled in crooked eyebrows while PEPPER's wiglet is askew & her eyeliner is permanently smudged.
Big Snip Day was several days ago…SALT is ready to go home but his sis PEPPER has a few more days of spay cage rest ( yeah, right! They're kittens).
SALT & PEPPER can be adopted separately but it would be so nice to keep this adorable set of peewee "shakers" together.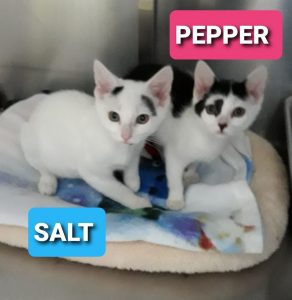 To meet SALT and/or PEPPER by appointment at Last Hope in Wantagh, please complete & submit a cat adoption application found on the Last Hope website homepage.
I've found my forever home! Thank you!