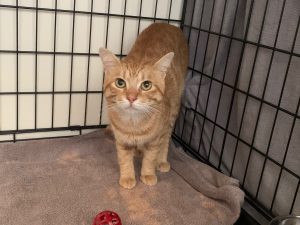 SIMBA has Something Special to Say:
"Bet you didn't know I was at Last Hope. Arrangements were made for 6 young, fabulously friendly cats to come to Long Island from overcrowded, packed-to -the- gills- with-cats Georgia shelters."
SIMBA is right..These 6 fabulously friendly cats didn't stand a chance of being adopted unless transported North.
SIMBA is a doll. His fur is the color of a Georgia peach. He is so affectionate, it is hard to get him to step back for a photo. He wants to be with you. SIMBA considers everyone his friend…He purrs & rubs gently. Yes, SIMBA is fabulously friendly.
Let SIMBA be YOUR little "Lion King".
All his vetting is done including his neuter.
SIMBA is 2 yr old, and is the oldest of our 6 Georgia cats- AJAX, ANGEL, GABBY, COCO & OATMEAL RAISIN are the others.
To meet SIMBA at Last Hope in Wantagh, please complete & submit a cat adoption application found on the Last Hope website homepage.
I've found my forever home! Thank you!