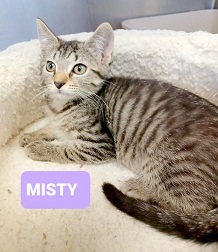 ?MISTY has Missed
Out
on a Continuous Comfy Kittenhood.?
She & her 3 littermates were rescued in an East Massapequa yard when they were 3 months old.
MISTY & Kitten Co. spent 4 weeks in foster care in the home of their rescuer Kathleen. They got a taste of the good life but are now at Last Hope Adoption Center in a cage.
MISTY would love a Comfy Forever Home where she is showered with love.
To meet MISTY at Last Hope in Wantagh by appointment, please complete and submit a cat adoption application found on the Last Hope website homepage.
I've found my forever home! Thank you!