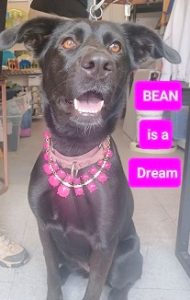 BEAN is a DREAM.
Her Adoption Plea is a Courtesy Post via Last Hope.
This 1.5 yr old Lab/Shepherd was originally adopted from a rescue in Tennessee, & lived in house in Tennessee where she had a big, yard to run. She is a bright, happy and energetic pup who meshes well with other dogs.
Her owner's job changed, forcing a move to an apartment on Long Island. BEAN then spent most of each day in a crate, and received little attention because her owner's work schedule & family obligations took up all of her time.
A good friend of Last Hope knew the owner and all about BEAN's predicament , so she offered to foster BEAN while seeking a new home for BEAN where she could be the happy dog she used to be.
BEAN's foster Mom already has 3 big dogs of her own .They all get along well. She sent BEAN to work with a professional trainer who taught her basic commands & saw her plethora of pup potential.
BEAN & her 3 housemate dogs attended the Last Hope BBQ. They were well-behaved & even took turns in the kiddie pool.
Then BEAN visited the Last Hope Thrift Shop on Thursday. Her manners were excellent at the shop for over an hour. She posed, modeling our lovely necklaces.
Her foster Mom is looking to place BEAN in a home with another athletic pup. She will do great with a dog-savvy adopter who has a fenced in yard.
Please call 631-839-2514 if you are interested in meeting BEAN. Her foster Mom will be taking applications & doing a home check before placing BEAN.
I've found my forever home! Thank you!